CD's
Songflower Girl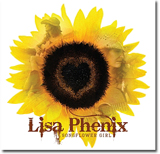 Buy it from CD Baby
Songflower Girl (MP3)
God Gave Me Music (MP3)
Wish You Were Here (MP3)
---
WE FEEL CD

Sing Every Day (MP3)
Don't Laugh At Me (MP3)
You Are My Sunshine (MP3)
---
H O M E G R O W N

Buy it from CD Baby
Silly Little Mama (MP3)
Good Man (MP3)
Losin' You good Woman Blues (MP3)
---
Holidays are for Hugging

Buy it from CD Baby
Santa Claus is Coming to Town (MP3)
Silly Little Mama (kid's version) (MP3)
Holidays Are For Hugging (MP3)
---
Radio Stations
KDVS 90.3 FM, Davis CA
KVMR 89.5 FM, Nevada City CA
KFOK 95.1 LPFM, Georgetown CA
KPFA 94.1 FM, Berkeley CA
KMUD 91.1 FM, Garberville CA
WMRA NPR Virginia
KTHX Reno NV
In Argentina...
www.radiogualeguay.com.ar
In France...
www.radiosblues.com
www.beaubfm.com
BEAUB FM 89 LIMOGES
www.kaolin-fm.com
KAOLIN FM 88.4 CORREZE, DORDOGNE, HAUTE-VIENNE
RMJ FM 90.1 HAUTE-VIENNE, INDRE, VIENNE
www.radiovassiviere.com
RADIO VASSIVIERE 88.6 HAUTE-VIENNE, CREUSE, & 92.3 HTE CORREZE
BRAM' FM98.3 TULLE & PAYS D'EGLETONS CORREZE
www.rtflimoges.com
RADIO TROUBLE FETE 95.4 LIMOGES.
www.brenigesfm.com
BRENIGES FM 95.6 BRIVE
Internet Stations
Whole Wheat Radio
High Sierra Radio
Grizzly Radio 89.9 LpFM during the festival
---
---

Lisa's music is featured on the
Lullaby Exercises
DVD/CD from
Chicks-n-Chickens
.
Here's a review by Lori.